Jun 12, 2023 at 06:02 PM
Renowned Disk Jockey Michael Macharia Njiiri a.k.a. DJ Brownskin appeared in court on Monday to face charges related to a recent suicide case, where he stands accused of neglecting...
Jun 04, 2023 at 07:20 PM
After a relentless game of hide and seek, the elusive local DJ, Michael Macharia Njiiri, known by his stage name DJ Brown Skin, was finally arrested....
Jun 01, 2023 at 06:04 PM
On this day, 60 years ago, Kenya formally gained its right of internal self-government. Madaraka, the mandate of majority African self-determination, was a major step towards the e...
Jun 13, 2022 at 07:23 PM
The Kirinyaga police have launched a manhunt for an ex-convict who went into hiding after hacking his mother to death over a suspected land dispute....
Jun 02, 2022 at 12:47 AM
A section of Kenyans is a disgruntled lot because Deputy President William Ruto was not given a chance to make a speech during the 59th celebration of Madaraka Day on Wednesday....
Jun 01, 2022 at 02:53 PM
President Uhuru Kenyatta has pardoned 3908 inmates during the Madaraka Day celebrations....
Jun 01, 2022 at 12:46 PM
Interior PS Karanja Kibicho revealed that the 2022 Madaraka Day will cost the Kenyan taxpayer approximately Sh70 million....
Oct 20, 2021 at 12:52 PM
The falling out between the two leaders emerged after President Kenyatta and former Prime Minister Raila Odinga on March 9, 2018, joined forces through the famous initiative handsh...
Jun 03, 2021 at 05:53 AM
A bizarre incident was witnessed in Vihiga on Madaraka day when a family obstructed the Vihiga-Kisumu road with a corpse....
Jun 01, 2021 at 05:37 PM
The Big Push Investments are about laying the ground for our economic take-off. ...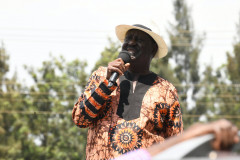 May 24, 2021 at 10:27 AM
"Reggae is back!" This is the declaration made by Orange Democratic Movement (ODM) Party Leader Raila Odinga on Monday....