Transparency International (TI) Kenya has revoked the Leadership Integrity Award it had conferred on Director of Public Prosecutions (DPP) Noordin Haji back in 2019
---
Transparency International (TI) Kenya has revoked the Leadership Integrity Award it had conferred on Director of Public Prosecutions (DPP) Noordin Haji back in 2019.

TI-Kenya Executive Director Sheila Masinde says the decision followed petitions filed after Haji controversially withdrew a number of high-profile cases from September last year.
At the same time, Transparency International reiterated its firm belief that maintaining the highest standards of integrity is crucial for all recipients of the awards.
"Transparency International Kenya has made the decision to withdraw the Leadership Integrity Award (State/Public Officer) conferred upon you in 2019," read the statement by TI-Kenya.
The Not for Profit Organization says the petitions filed before it raised pertinent issues with the DPP's decisions saying the withdrawals resulted in the loss of billions in public funds.
"These petitions have raised serious allegations regarding the withdrawal of high-profile corruption cases, including those for which you were previously recognised, resulting in the loss of public funds," went on the statement.
The international organization has demanded that Haji immediately returns the plaque and certificate that had been issued to him when he was rewarded for his perceived graft fight.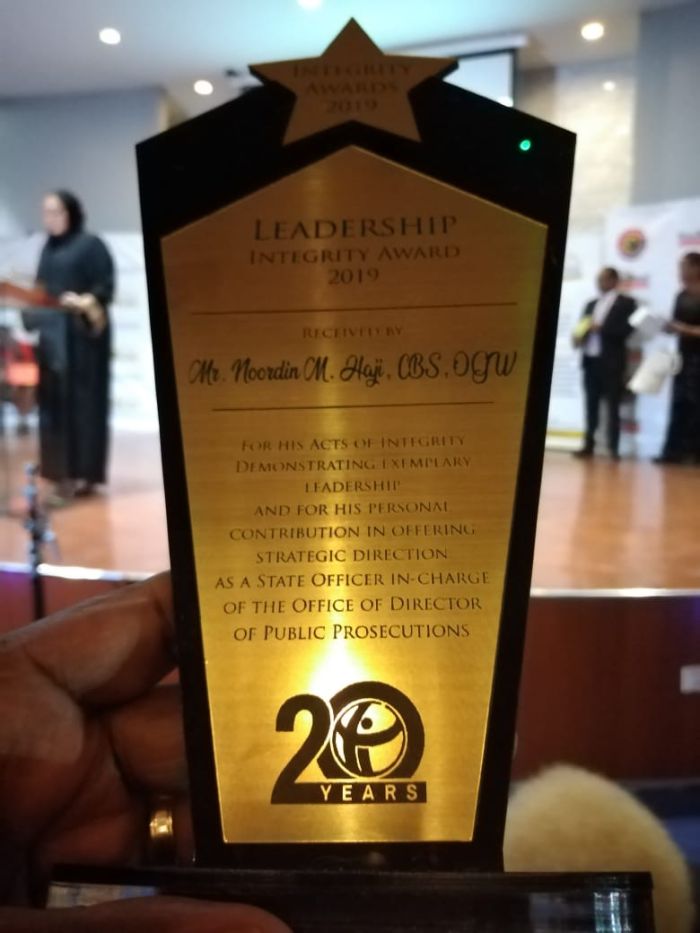 This comes even as Haji has been picked by President William Ruto to replace Philip Kameru as the Director of the National Intelligence Service (NIS).
However, a group of civil society group under the umbrella body National Integrity Alliance have filed a petition before the Public Service Commission seeking to have Haji dismissed.
The NGOs are demanding that the former NIS official be sacked over allegations of gross misconduct, incompetence and failure to comply with Chapter 6 of the Constitution.