Jun 09, 2023 at 05:07 PM
In a baffling twist of events, the Cabinet Secretary for Youth Affairs, Sports, and The Arts, Ababu Namwamba, has pulled off a theatrical act by revoking the establishment of the m...
Oct 14, 2021 at 08:27 AM
Controversial comedian Eric Omondi has, for an umpteenth time, spoken about his stay at a popular comedy show, the Churchill show....
Aug 23, 2021 at 08:38 AM
Machakos County Governor Alfred Mutua held a star-studded party to celebrate his 51st birthday on Sunday....
Aug 02, 2021 at 09:47 AM
"Marriage is a good and God idea and there are some things you have to enjoy in life. In heaven, we'll just be worshipping with the 24 elders"...
May 19, 2021 at 08:58 AM
"I am not yet there but working towards being a responsible person, dad, husband & man. Mungu ni Mwema"...
May 11, 2021 at 02:59 PM
Comedian Jemutai on Tuesday revealed the DNA test results to settle the paternity tussle between her and fellow comedian and lover Prof Hamo....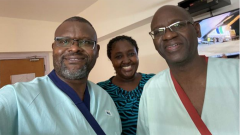 Apr 24, 2021 at 08:47 AM
Kenya National Football Team, Harambee Stars, head coach Jacob "Ghost" Mulee has announced that a medical procedure he underwent was successful. ...
Oct 11, 2020 at 06:04 PM
Did Comedian Othuol Othuol have a premonition about his death?...
Oct 11, 2020 at 05:33 PM
Churchill Show comedian Othuol Othuol dies after battle with brain tumor, TB...