Fuel pump prices have increased by Sh9.90 as the government subsidies tame the hike to the lowest proportions in the entire region.
Over the same period, the mean monthly US Dollar to Kenya Shilling exchange rate depreciated by 0.71 per cent from Sh113.79 per US5 in February 2022 to Sh114.60 per USS in March 2002

---
Fuel pump prices have increased by Sh9.90 as the government subsidies tame the hike to the lowest proportions in the entire region.
The Energy and Petroleum Regulatory Authority (EPRA) has released the latest review of the maximum retail petroleum prices in Kenya for the period between April 15, 2022, to May 14, 2022.

In the period under review, the pump prices of Super Petrol, Diesel and Kerosene increased by Sh9.90 per litre respectively.
The prices are inclusive of the 8 per cent Value Added Tax (VAT) in line with the provisions of the Finance Act 2018, the Tax Laws (Amendment) Act 2020 and the revised rates for excise duty adjusted for inflation as per Legal Notice No. 194 of 2020,
The average landed cost of imported Super Petrol increased by 20.47 per cent from US$676.40 per cubic metre in February 2022 to US5814.85 per cubic metre in March 2022; Diesel increased by 24.70 per cent from US$677.31 per cubic metre to US$844.57 per cubic metre while Kerosene increased by 11.84 per cent from US$619.57 per cubic metre to US$692.95 per cubic metre.
The applicable pump prices for this cycle for Super Petrol, Diesel and Kerosene have been increased by Sh9.90/litre from the immediate previous cycle. 
The Free On Board (PCB) price of Murban crude oil lifted in March 2012 was posted at USS 85.11 per barrel an increase of 14,46 per cent from US$74.36 per barrel in February 2022.
Over the same period, the mean monthly US Dollar to Kenya Shilling exchange rate depreciated by 0.71 per cent from Sh113.79 per US5 in February 2022 to Sh114.60 per USS in March 2002
The following is the table showing how the revised fuel prices and how much the government subsidies have covered to cushion Kenyans from the harsh prices: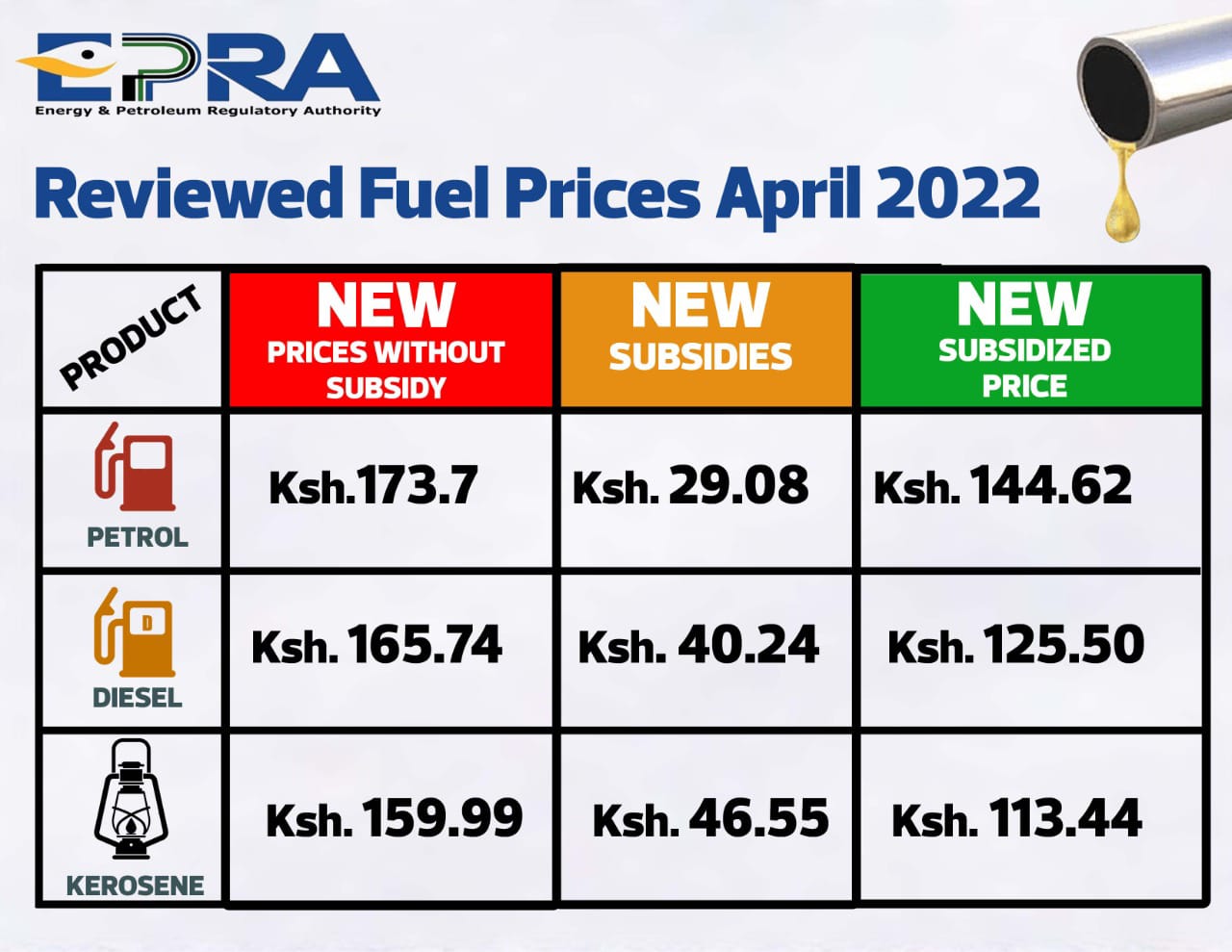 In the latest EPRA review made on Thursday, Nairobi residents will buy Super Petrol at Sh144.62 per litre, Diesel at Sh125.50 per litre and Kerosene at Sh113.44 per litre.
Mombasa residents will buy Super Petrol at Sh142.36 per litre, Diesel will retail at Sh123.26 while Kerosene will retail at Sh111.19
Fuel pump prices for Super Petrol will retail at Sh145.03, Diesel will retail at Sh126.20 and Kerosene will also retail at Sh114.16 in Kisumu.
The following is the full list of the reviewed fuel prices across the country: